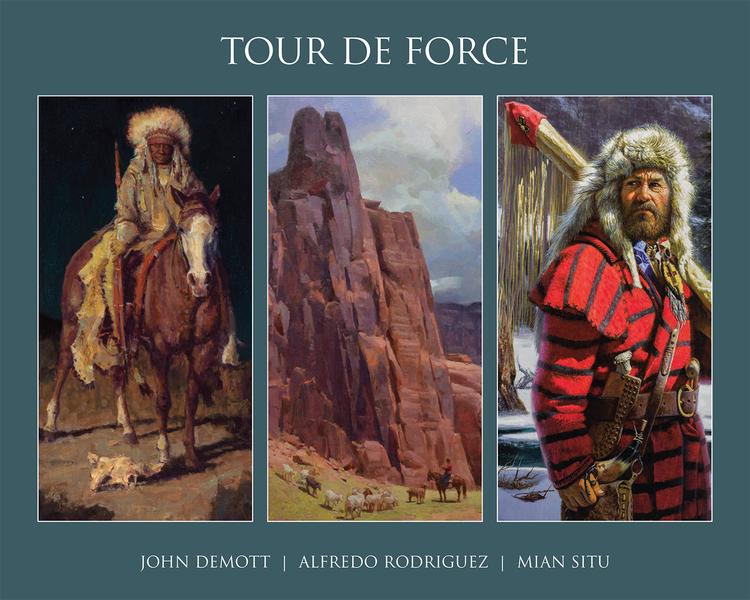 Tour de Force: John DeMott, Alfredo Rodriguez & Mian Situ
September 1 - 30, Open House: September 16, 4-7pm
Jackson, Wyoming
click to view catalog

The term Tour de Force is described as an impressive performance or achievement that has been accomplished or managed with great skill. The words most certainly seem apt when used to describe the newest works of contemporary master artists John Demott, Alfredo Rodriguez and Mian Situ; three of the most recognized and successful western artists working today.

Coming from such diverse backgrounds as they do, they nonetheless share an incredibly close bond, each using their art to explore and share the stories, experiences and perceptions of the people and places of the American west.

An avid outdoorsman and storyteller of the American West, John Demott truly transcends the cliché of the Western artist. Born and raised on Southern California horse ranches, he has worked and lived the life of his artistic subjects and can speak the language of his experiences. His painting style, which he calls Historical Realism, allows him to paint his subjects in a realistic manner but with a painterly approach.

As a young boy growing up in Mexico, Alfredo Rodriguez had childhood aspirations to become a painter. A self taught artist, today his rich and vivid images of the landscapes and diverse people of the west have brought him many awards and accolades and his paintings are found in major private and museum collections.

Main Situ's award winning interpretations of the Chinese/American experience are just one part of his versatile artistic portfolio. A love for capturing historical western themes and American landscapes has been the impetus for his newest body of work; notably the beautiful and mystical vistas of Canyon de Chelly and the Navajo people that inhabit these lands.

It is indeed our pleasure to bring you this new collection of compelling and rich western narratives.