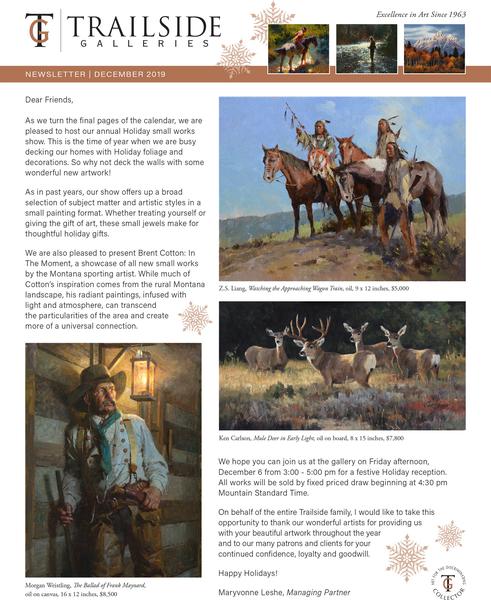 View Newsletter

Dear Friends,

As we turn the final pages of the calendar, we are pleased to host our annual Holiday small works show. This is the time of year when we are busy decking our homes with Holiday foliage and decorations. So why not deck the walls with some wonderful new artwork! As in past years, our show offers up a broad selection of subject matter and artistic styles in a small painting format. Whether treating yourself or giving the gift of art, these small jewels make for thoughtful holiday gifts.

We are also pleased to present Brent Cotton: In The Moment, a showcase of all new small
works by the Montana sporting artist. While much of Cotton's inspiration comes from the rural Montana landscape, his radiant paintings, infused with light and atmosphere, can transcend the particularities of the area and create more of a universal connection.

We hope you can join us at the gallery on Friday afternoon, December 6 from 3:00 - 5:00 pm for a festive Holiday reception. All works will be sold by fixed priced draw beginning at 4:30 pm Mountain Standard Time.

On behalf of the entire Trailside family, I would like to take this opportunity to thank our wonderful artists for providing us with your beautiful artwork throughout the year and to our many patrons and clients for your continued confidence, loyalty and goodwill.
Happy Holidays!
Maryvonne Leshe, Managing Partner