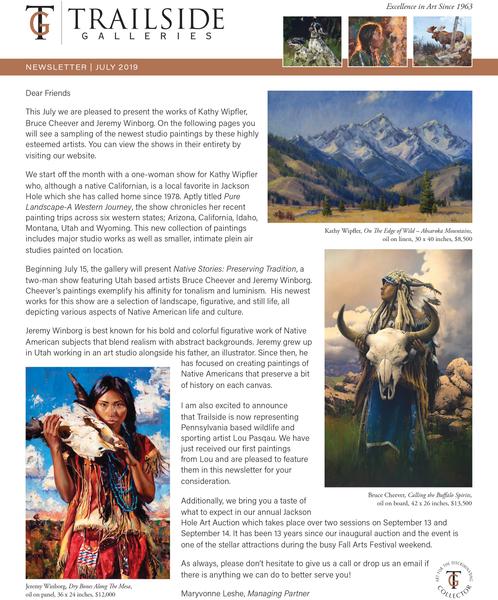 LINK TO NEWSLETTER:

SHOWS
Kathy Wipfler: Pure Landscape-A Western Journey
Native Stories: Bruce Cheever & Jeremy Winborg
FEATURES
Introducing Lou Pasqua
Ezra Tucker

This July we are pleased to present the works of Kathy Wipfler, Bruce Cheever and Jeremy Winborg. On the following pages you will see a sampling of the newest studio paintings by these highly esteemed artists. You can view the shows in their entirety by visiting our website.

We start off the month with a one-woman show for Kathy Wipfler who, although a native Californian, is a local favorite in Jackson Hole which she has called home since 1978. Aptly titled Pure Landscape-A Western Journey, the show chronicles her recent painting trips across six western states; Arizona, California, Idaho, Montana, Utah and Wyoming. This new collection of paintings includes major studio works as well as smaller, intimate plein air studies painted on location.

Beginning July 15, the gallery will present Native Stories: Preserving Tradition, a two-man show featuring Utah based artists Bruce Cheever and Jeremy Winborg. Cheever's paintings exemplify his affinity for tonalism and luminism. His newest works for this show are a selection of landscape, figurative, and still life, all depicting various aspects of Native American life and culture.

Jeremy Winborg is best known for his bold and colorful figurative work of Native American subjects that blend realism with abstract backgrounds. Jeremy grew up in Utah working in an art studio alongside his father, an illustrator. Since then, he has focused on creating paintings of Native Americans that preserve a bit of history on each canvas.
I am also excited to announce that Trailside is now representing Pennsylvania based wildlife and sporting artist Lou Pasqau. We have just received our first paintings from Lou and are pleased to feature them in this newsletter for your consideration.
Additionally, we bring you a taste of what to expect in our annual Jackson Hole Art Auction which takes place over two sessions on September 13 and September 14. It has been 13 years since our inaugural auction and the event is one of the stellar attractions during the busy Fall Arts Festival weekend.

As always, please don't hesitate to give us a call or drop us an email if there is anything we can do to better serve you!

Maryvonne Leshe, Managing Partner