Lindsay Scott-Showcase of New Works-2014
September 1 – 14, 2014
Jackson, Wyoming
Press release
Lindsay Scott: Showcase of New Works
September 1-14, 2014
Artist Reception: Saturday, September 13, 2014, 4-7pm

Zimbabwe native Lindsay Scott will introduce a new collection of paintings during her one-woman showcase in Jackson, Wyoming. Scott's background as an illustrator, botanical researcher and biologist have served her well in conveying the drama and spirit of wildlife, both African and North American. Her meticulous illustration work is melded with an expressive use of brushwork and reflected light. Acclaimed for her dynamic and bold oil paintings as well as exquisitely detailed pencil drawings, she is able to convey a sense of first hand experience while capturing an intimate understanding of the wild country she knows so well. An artist reception takes place September 13th from 4-7pm.

Click on the following links:
September Newsletter

Since 1963, Trailside Galleries of Jackson, Wyoming and Scottsdale, Arizona has been regarded as one of the pre-eminent dealers in American representational art, specializing in a rich and varied collection of works by the leading western, wildlife, figurative, impressionist, and landscape artists in the country. The artist roster includes members of the Cowboy Artists of America, National Academy of Design, Oil Painters of America, Plein-Air Painters of America, Prix De West, Society of Animal Artists, National Sculpture Society and Masters of the American West.

The gallery is also home to the offices and showrooms of its auction department, the Jackson Hole Art Auction. Since 2007, the Jackson Hole Art Auction has been recognized as one of the premier art events in the country, defined by the high standard of works offered in a variety of genres including wildlife, sporting, figurative, landscape and Western art by both renowned past masters and contemporary artists

Please contact Kimberly C. Fletcher at 307.733.3186-Jackson or email at media@trailsidegalleries.com for further information and images.
Download PDF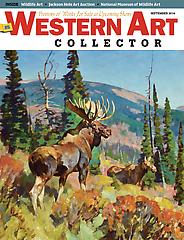 In the News: Fall Gold Show Preview Featured in Western Art Collector
September 13, 2014
With the splendor of the autumn season in full swing and paired with the celebrated Jackson Hole Fall Arts Festival, Trailside Galleries debuts its highly anticipated Fall Gold exhibition and sale. The highlight of the gallery's fall art season, Fall Gold coincides with the Fall Arts Festival and includes a group exhibition, several solo showcases and other happenings. It kicks off September 1. The group exhibit includes a fine selection of wildlife, landscape, and sporting art by artists Dustin Van Wechel, Brent Cotton, James Morgan, George Northup, Kyle Sims, Dan Smith, Adam Smith, John DeMott, Tucker Smith, Kent Ullberg, Kathy Wipfler, and Sarah Woods, among others. There will be an artists' reception September 13 from 4 to 7 p.m. with many of the show participants in attendance for meet and greet.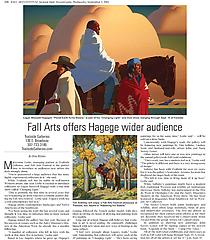 In the News-September Shows featured in Jackson Hole News & Guide
Fall Arts offers Hagege wider audience
Jackson Hole News & Guide
By Dina Mishev
Maryvonne Leshe, Managing Partner at Trailside Galleries, said Fall Arts Festival is the perfect time to introduce to audiences new artists she feels strongly about. "You're guaranteed a large audience that has many highly experienced collectors in it," she said.