Nicholas Coleman: Life in the Rockies
June 17 - June 29, 2019, Open House: June 20, 5-8pm
Jackson, Wyoming
Press release
Trailside Galleries is pleased to announce a showcase of new works by Nicholas Coleman. "Life in the Rockies" will open on June 17 and continues through June 29. For this event, Coleman has produced a collection of studio paintings dedicated to both western subjects as well as wildlife themes.

Brought up in an artistic home, Nicholas Coleman earned a BA in Fine Arts from Brigham Young University. Though the guidance of this father, renown painter and sculptor Michael Coleman, he has been painting and drawing for as long as he can remember. Travels across North America, Canada, Europe and even Africa have provided a steady stream of inspiration for his compositions. These painting journeys have given him a deep appreciation for the subtle details hidden in plain sight. While never formally trained, Coleman uses a traditional academic approach in his painting, inspired by masters of old to guide his own career.

Coleman's work has a degree of spontaneity and a slight impressionistic feel that allow the viewer to participate in the scenes he creates. He endeavors to create a connection between his paintings and the observer by invoking a mood that the viewer can walk into. He notes, "The work I am striving to produce, is a kind of preservation of a certain way of life. The West has always fascinated me. There are so many untold stories to tell!"

Nicholas Coleman's work can be found in various private and corporate collections including the Anshutz Collection, Denver, Colorado, the Bennington Center for the Arts, Bennington, Vermont, the Leigh Yawkey Woodson Art Museum, Wausau, Wisconsin, George Lucas, Lucasfilm Ltd., Christopher Forbes, Forbes, New York, New York, Raymond James Financial Center, Tampa, Florida, the Adirondack Museum, Blue Mountain Lake, New York, Bass Pro Shops, Springfield , Missouri. and the Booth Western Art Museum, Cartersville, Georgia.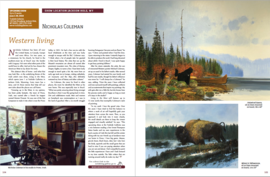 Nicholas Coleman-Western Art Collector Magazine Exhibition Preview
June 2019
Nicholas Coleman: Living in the West-Exhibition Preview
Western Art Collector Magazine
June 2019

Nicholas Coleman has been all over the United States, to Canada, Europe and even Africa. For two years, as a missionary for his church, he lived in the southern-most tip of Brazil near the border with Uruguay. He's seen what other parts of the world have to offer. And yet he has chosen the American West to lay down his roots.