The Storytellers: Artists of the American West
November 2 - 30, Open House: November 7, 1-4pm
Scottsdale, Arizona
Press release
Trailside Galleries is pleased to present THE STORYTELLERS: ARTISTS OF THE AMERICAN WEST, from November 2 through November 29. The gallery will host an artist reception on Saturday, November 7 from 1:00 - 4:00 in the afternoon. Paintings by Morgan Weistling will be sold by draw at 3:00pm. The show will include traditional western cowboy and Native American art, as well as landscapes and wildlife of the West.

Over the past five decades, Trailside has been at the crossroads of western American art, known for starting and establishing the careers of many of the finest western artists in the country. For this particular event, the gallery returns to its core roots, focusing on new works by artists whose names are synonymous with western American art including Bill Anton, Jenness Cortez, Stan Davis, John DeMott, Fred and Deborah Fellows, Logan Maxwell Hagege, Z. S. Liang, Bill Nebeker, Jim C. Norton, JoAnn Peralta, Cynthia Rigden, William Suys, Richard Thomas, Morgan Weistling and many others.

An added bonus for western art collectors and enthusiasts is the fact that the gallery show is running concurrently with the 50th Anniversary Retrospective exhibition by the Cowboy Artists of America Organization which is being held at the new Western Spirit: Scottsdale Museum of the West. The museum is located in Old Town Scottsdale, just a five minute walk from the gallery.

Many of the participating artists from our gallery show will be attending the Artist Reception on November 7 to meet and visit with collectors.

Since 1963, Trailside Galleries of Jackson, Wyoming and Scottsdale, Arizona has been regarded as one of the pre-eminent dealers in American representational art, specializing in a rich and varied collection of works by the leading western, wildlife, figurative, impressionist, and landscape artists in the country. The artist roster includes members of the Cowboy Artists of America, National Academy of Design, Oil Painters of America, Plein-Air Painters of America, Prix De West, Society of Animal Artists, National Sculpture Society and Masters of the American West.

Please contact Kimberly C. Fletcher, Marketing & Communications Director at 307.200.1622 or via email media@trailsidegalleries.com for further information and images.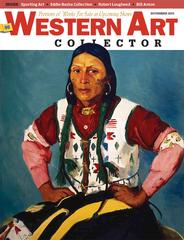 In the News: The Storytellers Exhibition featured in Western Art Collector
November 2015
Western Art Collector
Show Preview
The Storytellers: Artists of the American West
Narrative snapshots, frozen in oil, acrylic and watercolor, will be the subject of a new group exhibition, Storytellers: Artists of the American West, at Trailside Galleries in Scottsdale, Arizona.